Project Overview
The Riverside County Transportation Department is proposing to widen and realign Cajalco Road between Temescal Canyon Road to the west and Interstate 215 (I-215) to the east. The project is located in Riverside County, California and covers a distance of approximately 16 miles. A small portion of the westernmost part of the alignment is located in the city of Corona. The project would widen the roadway to four lanes between Harvill Avenue and Temescal Canyon Road, and to six lanes between the I-215 southbound ramps and Harvill Avenue.
Please note, this project is not the Mid County Parkway project. The Mid County Parkway is a freeway level facility that has been proposed by the Riverside County Transportation Commission for improving east-west mobility in Riverside County. The Cajalco Road Widening project is in fact part of an alternate strategy to provide east – west mobility by widening several existing regional facilities rather than constructing a new freeway level facility.
project schedule
EIR/EIS available for Public Review: Mid 2020

Environmental Clearance: Late 2021
Project Documents
☎ Project CONTACT
Scott Staley
(951) 955-2092
cstaley@rivco.org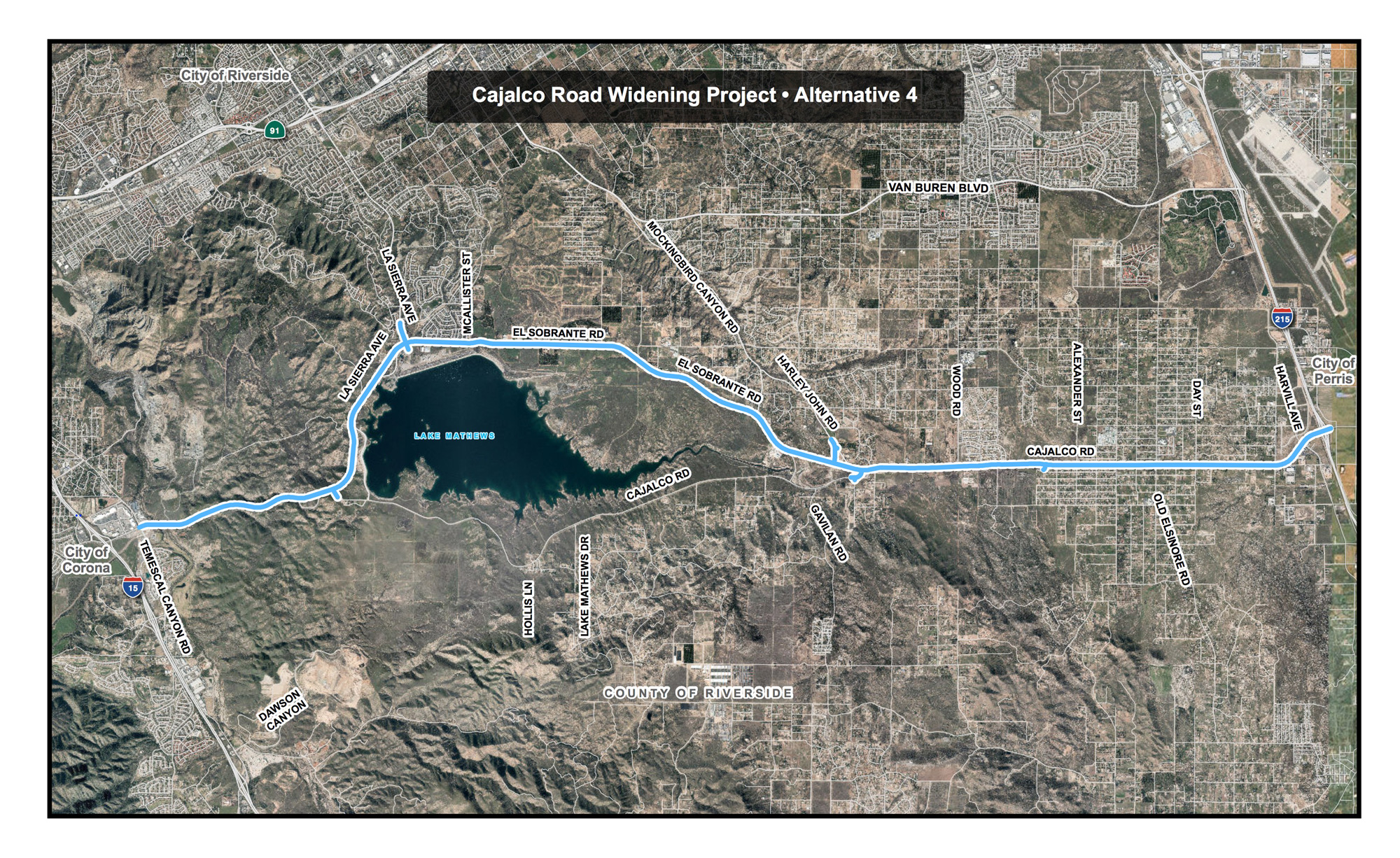 Widen Existing Cajalco Road between I-215 and Gustin Road; Widen and improve El Sobrante Road between Gustin Road and La Sierra Avenue; Realign La Sierra Avenue between El Sobrante Road and Cajalco Road; Widen existing Cajalco Road with minor alignment changes between La Sierra Avenue and Temescal Canyon Road.
Under the No Project Alternative Cajalco Road would remain a two-lane roadway. The roadway would remain as constructed with the exception of the portion between Brown Street to Day Street where a center turn lane is in the planning stages and is scheduled to be constructed well in advance of the proposed project.
Proposed Typical Sections
Proposed Typical Sections for the various segments of each alternative